Pin-feed Printer Labels Stock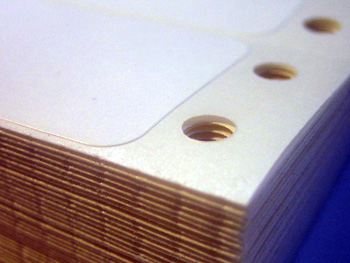 Pin-feed labels can be made out of paper, vinyl, PVC, polyester, environmentally responsible material (50% recycled paper), but most pin-feed labels are printed on white smudge-proof facestock with permanent adhesive. They are supplied on continuous rolls or fan folded sheets with perforations between pages which separate them neatly and easily.
They can be pre-printed with some constant information, like the company's logo, address, phone number, etc, or they can be purchased blank, so that you can print customized information on your dot matrix or any computer printer.
Some of the basic pin feed label materials are the following:
Pin-feed labels often come in piggyback format. That means the label is made up of two labels, one on top of the other, and since pin-feed label printing requires applying mechanical pressure on a label with the printer ink ribbon, the image can print on both the top and the bottom label. This allows the user to apply the top label on a product and to keep the bottom label with the exact printing as a record of inventory. There is an option to print only the top label and leave the bottom label blank.
Pin-feed label facestocks also come with removable adhesives, where you can remove the label without leaving any sticky residue on the application, and reapply it to another surface.
Some other options are attention-grabbing fluorescent pin-feed labels, or transparent polyester pin-feed labels for applications like water bottles, or any application that needs to look elegant.